REPOSTED FROM THE WEBSITE OF HUDSON RIVER SLOOP CLEARWATER
February 2023 EA E-News Update
Public Health and Safety Impacts of Decommissioning Indian Point: On January 26 Grassroots Environmental Education, Clearwater and the United for Clean Energy Convergence hosted the first in a series of forums about health and safety impacts of the decommissioning of Indian Point. The forum featured several speakers, including Dr. Helen Caldicott, Acclaimed author, Nobel laureate and co-founder of Physicians for Social Responsibility, who discussed the human health impacts of nuclear facilities. View the recording and access panelist slides and other resources.
The next forum, scheduled for Thursday, February 16, 2023 at 4 PM. will feature Arnie Gundersen, former nuclear engineer, researcher and author, who will explain how the treatment system for radioactive water works, what it can or cannot achieve, why tritium, which cannot be filtered out of water, is a real concern and what discrete radioactive particles are. He will be joined by Dr. Kathy Nolan, an MD with pediatric expertise and moderated by Courtney Willimas, PhD. Register to attend.
Suggest listening to this excellent podcast as well. Tritium Exposé – Nuclear Energy Info
Earlier this month on February 2, Clearwater also participated in a meeting of the New York State Decommissioning Oversight Board (NYS DOB). View the recording of the meeting.
Municipal Outreach Efforts underway for Hudson River Fish Consumption Advisory:
As a result of General Electric's releases of polychlorinated biphenyls (PCBs) into the upper Hudson River between 1947-1977 from facilities in Hudson Falls and Ft. Edward, making the Hudson River the largest Superfund site in the United States. The contamination includes water, sediment, and wildlife, including fish across over 200 miles of the Hudson River, from Hudson Falls to Manhattan. PCBs are known to cause health issues including low birth weight and reproductive and immunological problems, and are suspected to cause cancer (USEPA). Fish in the Hudson River are contaminated with PCBs, which can be transmitted to humans through eating contaminated fish. Given these risks, the NYS Department of Health (NYSDOH) maintains Health Advisories for fish consumption, including what demographics can consume which species,in what regions, and both how much and how often each type can be consumed. Learn more and explore the fish consumption advisory.
Earlier this month, Clearwater contacted over 50 municipalities sharing consumption guidelines and information on how municipalities can obtain free educational signage to educate the public about the guidelines. If you live in or visit a Hudson River shoreline community which could use more PCB educational signage, please refer the municipality to the Department of Health, which has signs in several languages available free of charge.
Take Action: The comment Period for the New York New Jersey Harbor and Tributaries Coastal Storm Risk Management Feasibility Study (NYNJ HATS) remains open until March 7. The US Army Corps of Engineers is accepting comments on the Draft Integrated Feasibility Study and Tier 1 Environmental Impact Statement until March 7, 2023. The study is a result of the Disaster Relief Appropriations Act of 2013 which charged the U.S. Army Corps of Engineers (ACOE) with evaluating and selecting potential solutions to mitigate the impacts of coastal storms on the Harbor and Hudson River. In 2018, five proposed alternatives were unveiled for public comment, ranging from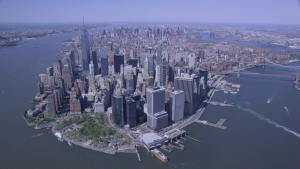 No Action (relying on existing measures and those already in the planning process) to constructing massive in-water storm barriers that would have closed the Hudson River off from the Atlantic Ocean during storms. The massive in-water barriers would have posed an existential threat to the Hudson River ecosystem and would have failed to address sea-level rise or heavy precipitation events. After significant public outcry, and a several year funding gap, the ACOE has tentatively selected Alternative 3B, consisting of Multi-basin Storm Surge Barriers with Shore-Based Measures. Learn more about Alternative 3B, review the study, and submit comments on the ACOE website.
(Additional note from NYCFC: Also please note that the New York District has announced a further extension to the public comment period for the New York-New Jersey Harbor and Tributaries Study Draft Integrated Feasibility and Tier 1 Environmental Impact Statement that was released in September 2022. The public comment period closing date has been extended from March 7, 2023 toMarch 31, 2023)